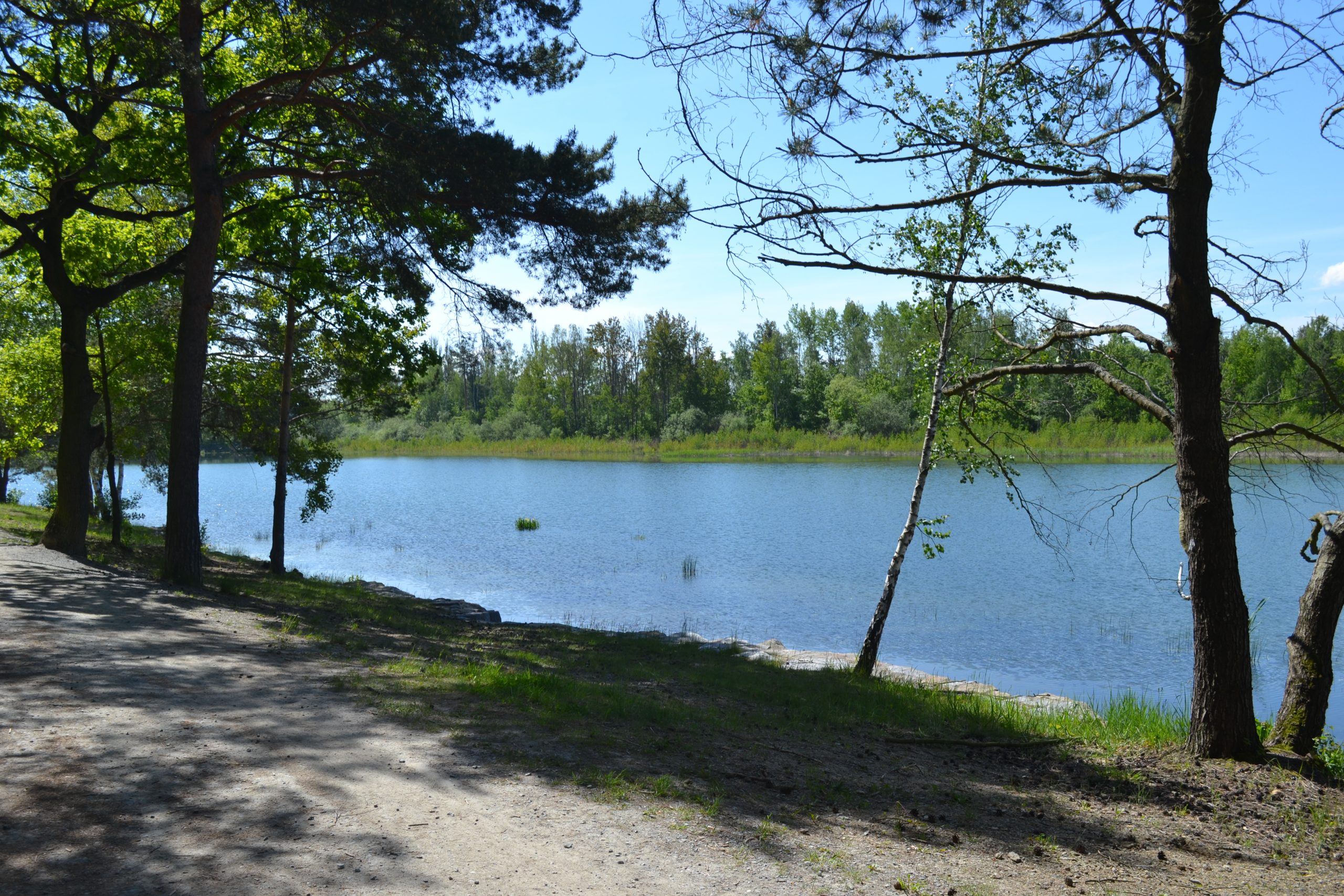 Places where you can cool off in the summer heat and relax from the hustle of the metropolis.
Summer is already in full swing and the streets of Pilsen become almost uninhabitable on tropical days under the onslaught of sunlight. In such a situation, it's best to go somewhere near the water. Fortunately, even in Pilsen you can find natural swimming areas where you can refresh, and if you survive a few minutes in the heat of a tram or bus, it will cost you only a few steps (and the ticket actually). Check out what swimming opportunities Pilsen offers in nature.
Škodaland near the České Údolí Dam
The České Údolí Dam, better known in Pilsen as the Borská Dam, is only about half an hour's walk from the UWB campus, or you can take the bus No 21 (Bory – Litice), its a stop "U Přehrady". So it would probably be the first place where a student would think to go and cool down. Unfortunately, the water quality isn't good and there isn't an official beach.
Fortunately, there is also the Škodaland sports area near the dam. It has a number of sports facilities (in-line track, air trampoline, skate park, football, volleyball, mini golf,…) and a swimming lake, which is suitable for allergy sufferers. I haven't had a chance to try it yet, but it is the most visited part of the area in the summer. More info, photos and opening hours can be found at skodaland.eu, admission is free!
Košutecké jezírko (pond)
Košutecké jezírko is located in an imaginary triangle formed by Karlovarská/Gerská and Studentská streets, so the best way to get here is from tram No 4 from the "Sokolovská" stop, or from the "Žlutická" or "Krašovská" stops on the exit road towards Chotíkov (lines 30, 33, 40).
Košutecké jezero is actually a flooded sandstone quarry and due to the "clever" setting in the terrain you wouldn't even know that you are only a few minutes walk from a busy four-lane road. On my last visit, the weather was far from swimming weather, but I've swum here in the summer and can definitely recommend the place for a swim. The adjacent park is partly shaded by trees, which is convenient during the tropics if you just want to lie down and read a book for a while. Unfortunately (for now) there are no changing rooms or bathrooms, but you'll love the pond and you can put on your swimsuit at home or in your dorm.
Velký Bolevecký rybník (The Great Bolevec Pond)
The Great Bolevecký Pond, which everybody in Pilsen calls Bolevák, is basically synonymous with summer swimming in Pilsen. You can get here by public transport by bus No 30 from the "Bolevecký rybník" stop.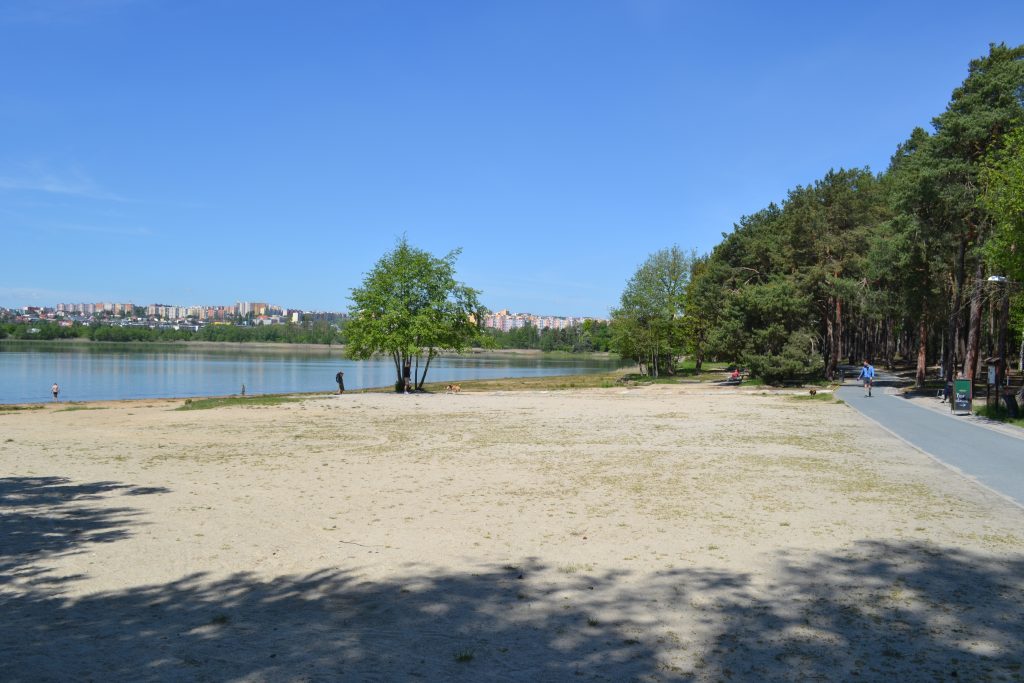 There are sandy beaches with gradual entry into the water along the entire northern shore, partly along the eastern shore, and a smaller grassy beach at the southern end. In the summer months, the pond is often used by pilsners for recreation, which has been taken advantage of by bistro owners who have built at least one snack bar on each shore (you may have already read on the blog about the POINT bistro in connection with gluten-free burgers). In the summer there are also cultural events, such as the Bolevák Music Festival.
Other Bolevec ponds
The Bolevec pond system consists of nine other ponds besides Bolevák. Some of them are suitable for swimming and easily accessible from the final tram No 1 "Bolevec" stop or from the train stop Plzeň-Bolevec.
The Třemošenský pond is the closest to this starting position. Instead of a beach there is only a stone walkway with two entrances to the water. Only a few hundred metres north you`ll find the Kamenný pond, where you can already see hints of a beach (on the northern shore), but it is shaded by pines, which is not for everyone. However, the presence of a changing room proves that people swim here on a regular basis. Šídlovský pond lies west of the Bolevec tram stop and its northern shore offers a small grass and sand beach and a playground. Senecký pond can be found east of the road to Kaznějov. A stone walkway leads to the water from part of the northern shore, and there is also a small grass and sand beach in the west.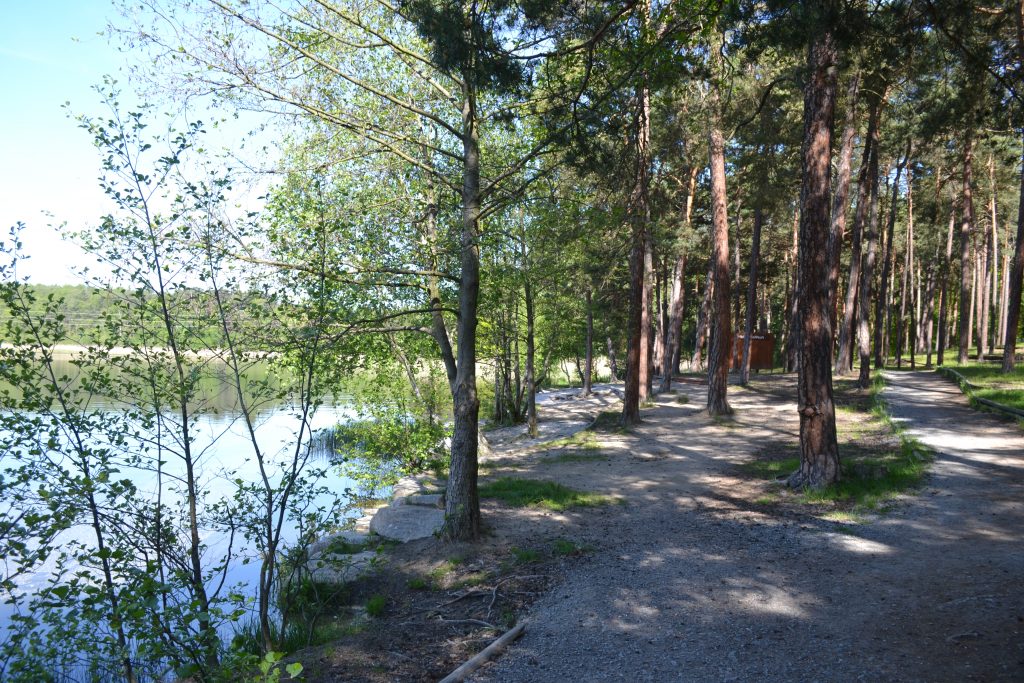 Check out the quality of water
You're not exactly Crocodile Dundee and would like to make sure that swimming in one of Pilsen's ponds is really safe? Of course we understand that, we'd hate to have a rash after swimming too. However, the water quality of the swimming ponds is continuously monitored and you can easily check it on the KHS Pilsen website.
Choose your favourite yourself
I don't think it's possible to objectively evaluate which place in this article is the best for outdoor swimming. If you don't mind the crowds, you can end up with your friends at Bolevák, after all, it's big enough anyway. If you don't float with the middle current, you`ll probably choose another one from the Bolevec ponds system, you can try them all in one day. You`ll be able to swim from one side to the other in the Košutecké pond, even if you're no of shape due to quarantine. And if you just want to take a break from school, Škodaland is about a quarter of an hour by public transport from the university campus.
If you have any other comments about the places or just want to share your own experiences, don`t hesitate to write to us on our Facebook or Instagram, otherwise let's go to swimsuits!