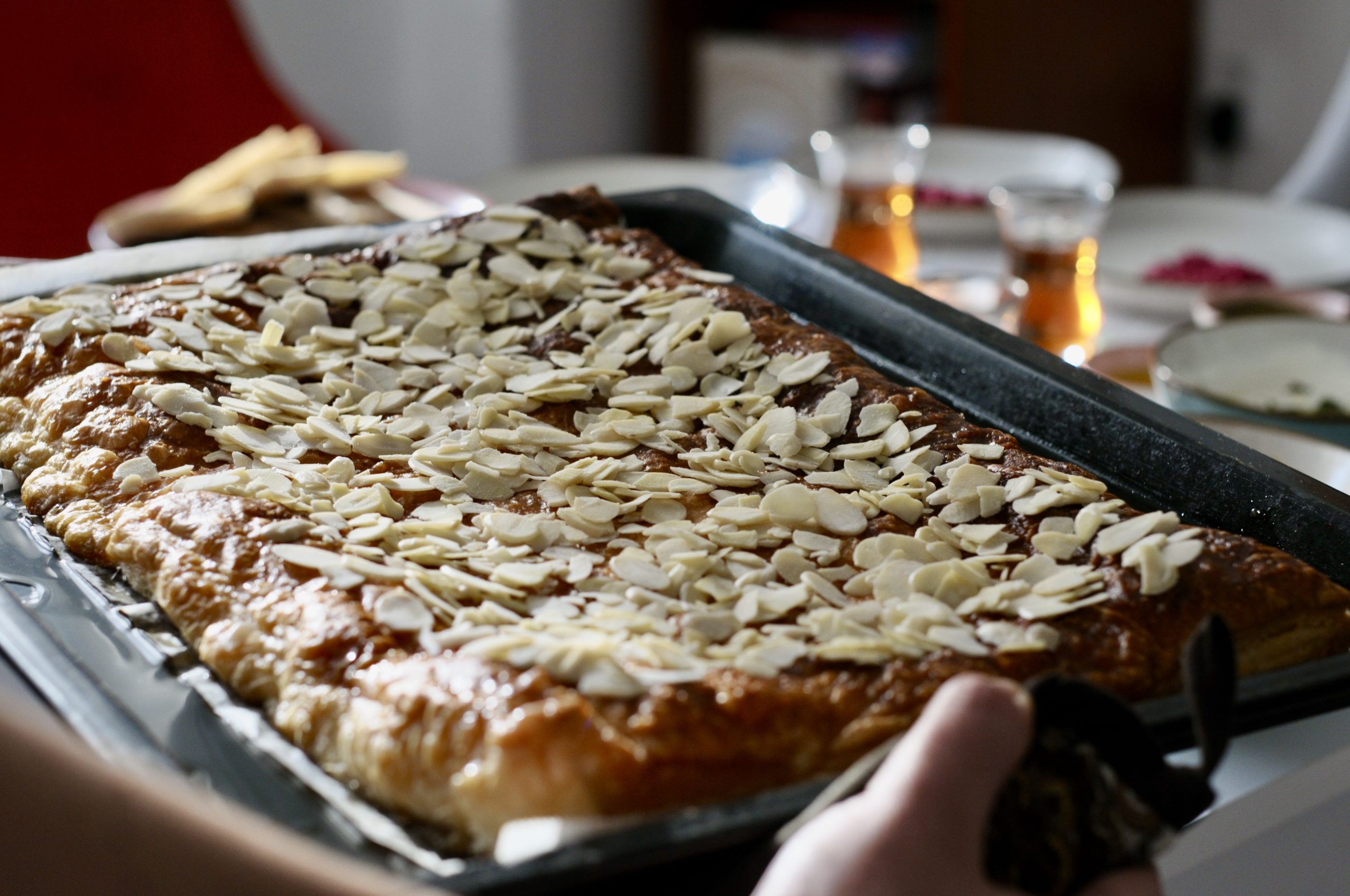 Claims for the swimsuit season must go aside. It's difficult to resist the Jerusalem dessert that combines a hearty sugar charge with goat cheese. Inspiration from the ARABFEST team.
Amount: 8 portions
Ingredients
2 packs of puff pastry (1 pack = 275 g)
500 g ricotta
150 g of fresh (soft) goat cheese (goat cheese lovers give up to 250 g)
50g warmed unsalted butter
crushed unsalted pistachios or almonds
Syrup:
90 ml water
280 g caster sugar
3-4 tablespoons lemon juice
1 tablespoon orange water (not necessary)
Instructions
Preheat the oven to 230 ° C (hot air to 210 ° C). Put puff pastry on the baking paper (1 pack; it's usually already on baking paper) and spread it with a little warmed butter. Mix ricotta and goat cheese and spread it in a bowl with a fork, place it on puff pastry and arrange it to an even layer so that 2 cm of dough remains free around the edges. Then cover with the remaining puff pastry (2nd pack; we will no longer use any baking paper here). Roll the dough at the edges so that the filling cannot run out. Then sprinkle the dough with the rest of the warmed butter. While the mutabbaq is baking, make a syrup. Mix water and sugar in a saucepan with a wooden spoon, and as soon as the solution starts to boil, add lemon juice and cook gently for 2 minutes. Put the saucepan off. Pour syrup over immediately after removing the mutabbaq from the oven. It should soak in. Let the dessert cool for 10 minutes, then sprinkle it with nuts and divide into portions. We serve it warm.
*Note: The original recipe is more sophisticated and laborious, which is reflected, among other things, by using filo dough instead of puff pastry. But it's also very tasty with the puff pastry.
*Inspiration: "Jerusalem" (2016, Slovart) and the mix of experiences of the ARABFEST team, students and graduates of the Faculty of Philosophy and Arts, UWB.
Bon appetit from the ARABFEST team!