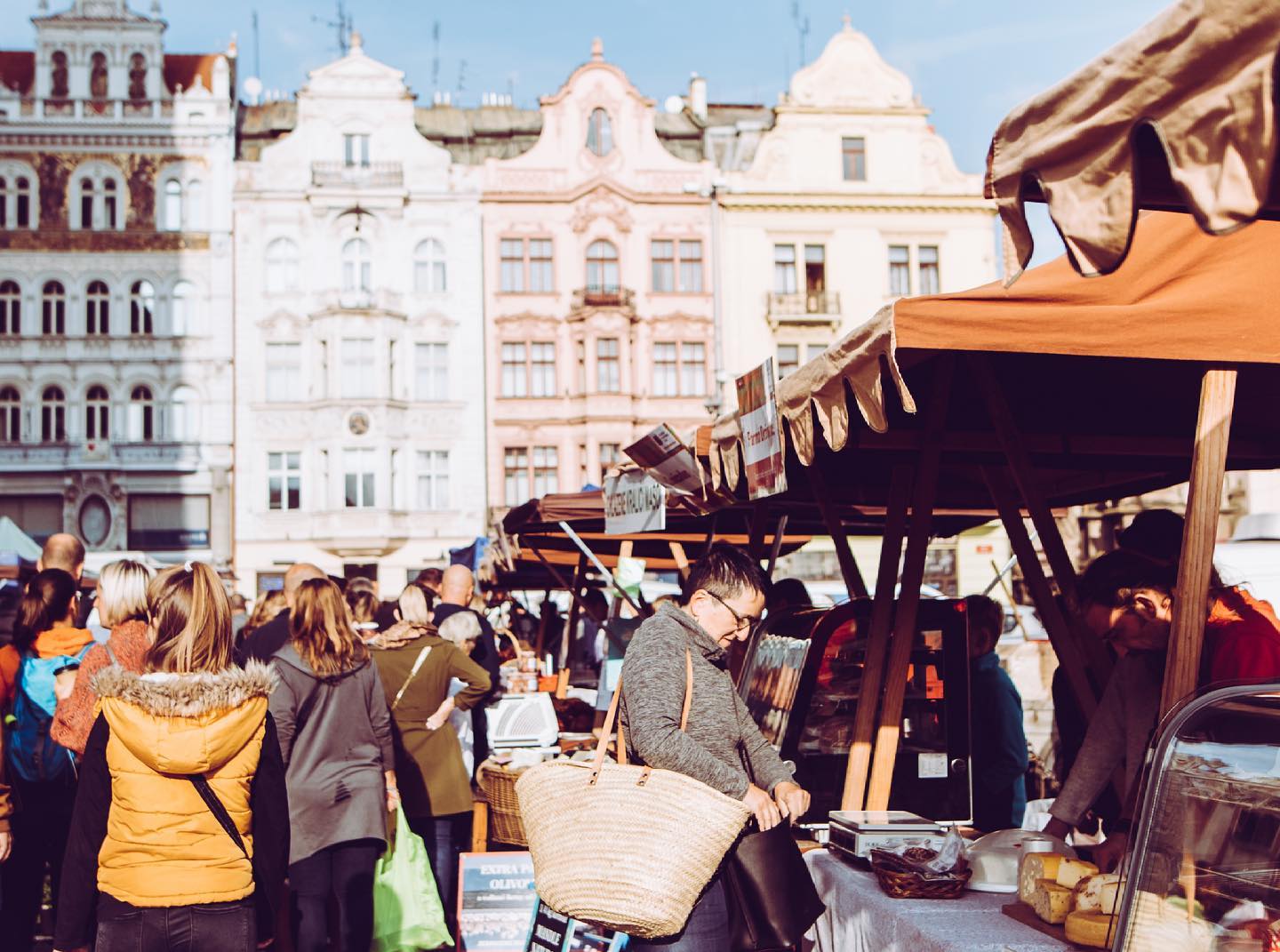 Free-range laying hens, more ethically processed meat and milk are currently a big topic. Where can we get these products in Pilsen?
There are at least two farmers' markets in Pilsen on a regular basis. One takes place on the náměstí Republiky (Republic Square, the main square) every Saturday from 8 a.m. to 12 a.m. Meat from local farmers, dairy products, fruits, vegetables, as well as honey, candles and other traditional products are sold here. Whoever comes first, takes first, so it is recommended to arrive on time as long as there is a big choice and everything is enough.
The second food market is located in Chodské náměstí, which is open from 9 a.m. to 1 p.m., Tuesday to Friday. It focuses mainly on fruit, vegetables and all sorts of flowers and seedlings. It sells advent wreaths and Christmas decorations around Christmas time.
*Tip: It is not necessary to go strictly and immediately to eco organic farm products and avoid hypermarkets like a devil to cross. But you can try going to a farmers' market twice a month instead of shopping at Lidl and see if the atmosphere of the small stalls with farmers selling their produce will enchant you and you will enjoy it.
Scuk
If you're a night owl rather than a morning lark, then you'll appreciate the Scuk internet service that makes it unnecessary to get up early. It's a country-wide online platform that brings farmers together and makes their services available to people in each region. The way it works is that you sign up for the group that corresponds to your home area and wait for the start of the buying process, which is usually announced by the organizer once a week. You put everything you need in your virtual basket, pay online and pick it up on the day of delivery. The food you find on these sites is often more expensive compared to supermarket products. It's a surcharge for more ethical treatment of animals that aren't fed by hormones, antibiotics and GMO feeds. It's also a surcharge for a more environmentally friendly food industry, that the small and medium-sized food producers on this platform try to honor.
*Tip: Where to get the money for this? My tip is to lightly reduce consumption but increase quality. If you're a hardcore carnivore for whom the word hummus will never evoke a meal, start by skipping meat only one day a week, for example. You'll have money left over for, say, a more expensive farmer's roast from Scuk, not to mention saving our greenhouse hole. But that's for another time.
Farm shops
Probably the most widely used network of farm shops in Pilsen are shops with the nice Czech name Liduška. They offer a variety of food products and also focus on healthy food, including products for celiacs. You can also go to the Farm Shop (Farmářský obchod) in Slovany or in the city centre in Šafaříkovy sady. Both of these chains also offer online shopping and in-store pick-up. 
*Tip: Specifically, you'll pay about the same for a plate of eggs from organic hens as you would for a month's rent, so it is definitely worth asking around your neighborhood if anyone has hens in their backyard or knows someone in the village who sells eggs. The price is often three times lower than in the shop and their taste is absolutely brilliant.
The trend of gentle agriculture is on the rise in the Czech Republic, products from organic farms are increasingly available and in demand. For this, a big thanks goes to everyone who cares about how their meat or milk got to their table. 🙂