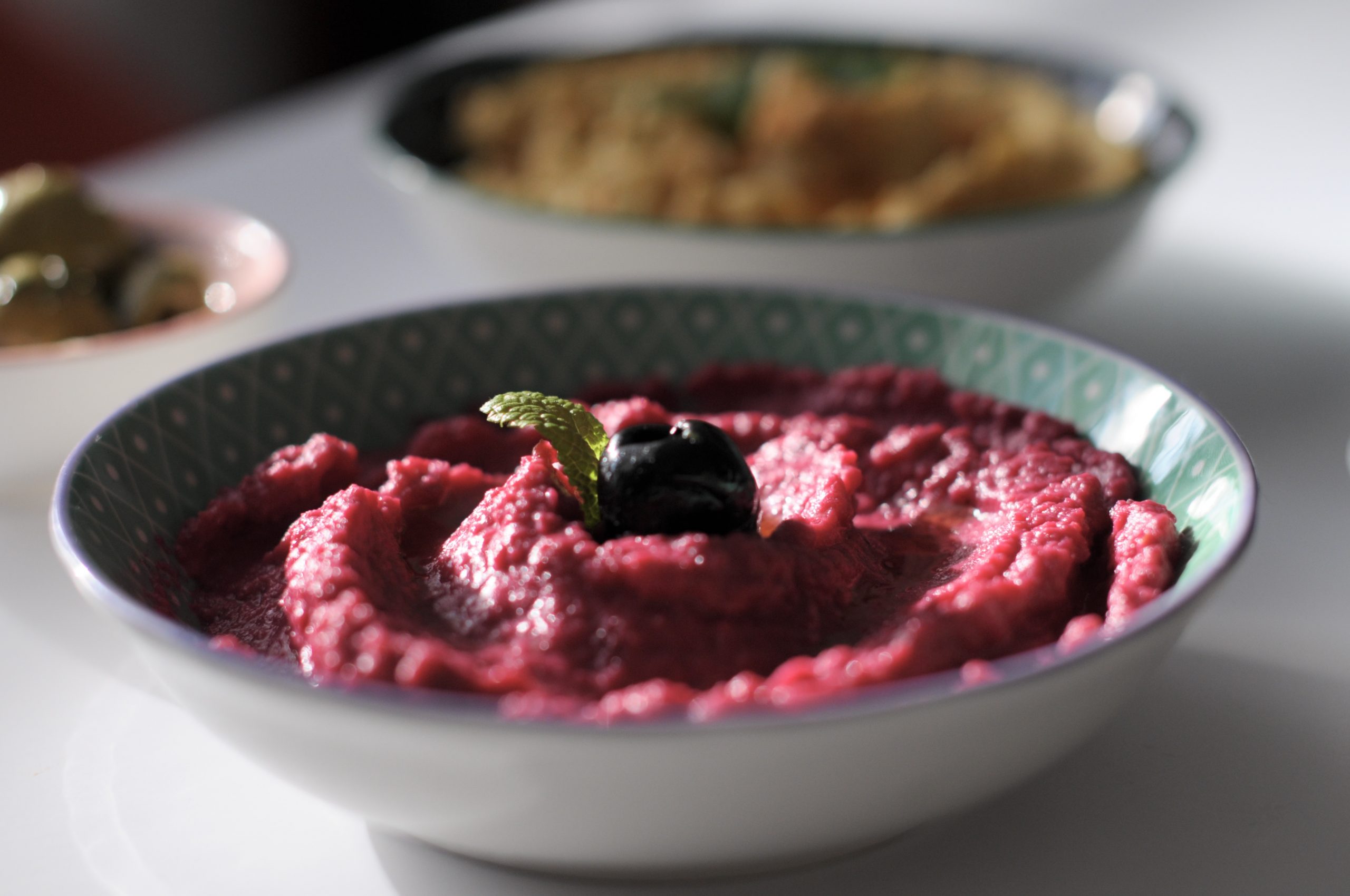 Hummus is the most common appetizer in the Middle East. It is also a tasty, healthy and balanced dish. Inspiration from the ARABFEST team.

Ingredients:

Classic hummus:
2 cups chickpeas
2 tablespoons sesame tahini paste
2 tablespoons lemon juice
1 tablespoon ground cumin
2 tablespoons Arabic mixture (Spices by Antonin)
1 clove raw garlic or 2 cloves roasted 
2 tablespoons olive oil
salt, black pepper for seasoning (not necessary)
Beet Hummus:
raw materials, see "Classic hummus"+
2 pieces of medium-sized red beets (buy pre-cooked if you are in a hurry)
2 cloves roasted garlic
salt, pepper for seasoning
Hummus with dried tomatoes:
raw materials, see "Classic hummus"+
4 tablespoons finely chopped dried tomatoes
2-3 tablespoons Greek-style yoghurt or creamy cream (not necessary)
2 cloves roasted garlic
1 tablespoon crushed chili
Instructions
Wash the chickpeas in water and soak for at least 12 hours. Then cook it gently (about 45 minutes). We don't pour out the water, it is added during mixing. Mix in portions so that the mixer doesn't overflow and gradually add water as needed. It's supposed to be mixed into a smooth mash. When we get the smooth mash, we add two tablespoons of tahini, spices, lemon to taste, then some pepper and olive oil.
In the case of hummus with dried tomatoes, we do the same, the difference is just that we add the above-mentioned ingredients and mix everything up.
As for the preparation of the beets, if we use pre-cooked, just put it in the oven lightly dripped with olive oil (at 190 ° C, for 20 minutes). It is important that the beets are still juicy, not black. Then, after the beet has cooled down, we add the baked beets to the hummus and mix everything. In case we use yogurt or cream, we recommend eating it immediately, it won't last that long in the fridge.
Spread the finished hummus on a plate, gently dripp some more olive oil, decorate with a few remaining balls of cooked chickpeas, or. add chili or Arabic mixture on top, you can decorate the edges with parsley or mint, depending on your taste.
*Note: Even when using pre-cooked chickpeas in unsalted pickle, hummus can be very tasty. We recommend 2 cans for the amount above. In any case, spices (let's not be afraid to try and improve!) and quality olive oil are essential in the preparation of hummus
*Inspiration: "Syrian cuisine" (2015, Dar Ibn Rushd) and a mix of experiences of the ARABFEST team, students and graduates of the Faculty of Philosophy and Arts, UWB.
Bon appetit from the ARABFEST team!