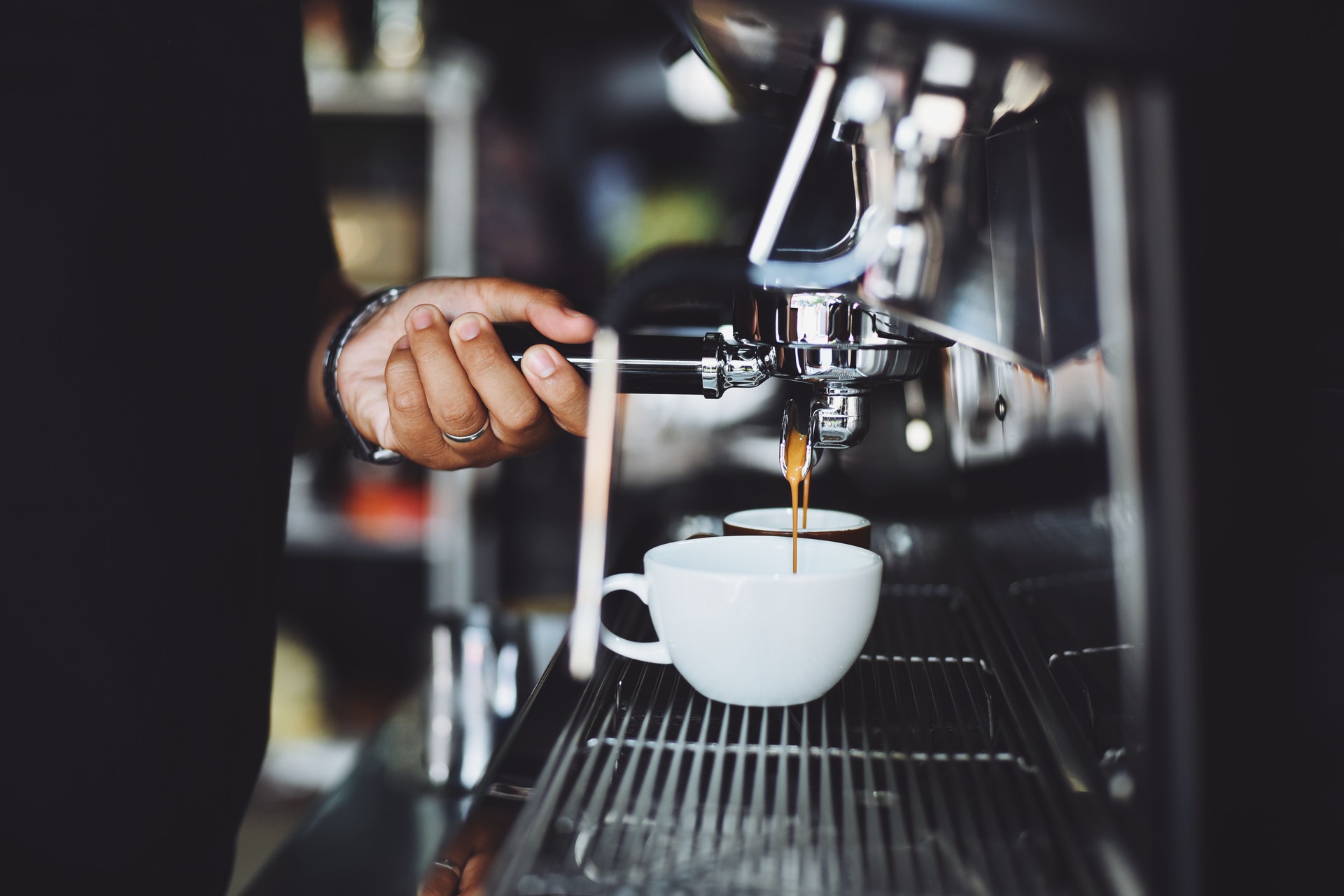 A balanced diet is essential for proper brain function. However, you don't have to worry about being hungry at the UWB.
Especially in the university campus, there are plenty of cafés and bistros to visit besides the canteen, if you have a sweet tooth, need an urgent caffeine booster, or are too choosy for the canteen. Let's see what places you can choose from.
Cafés and buffets of the UWB Dormitory and Canteen Administration ("Správa kolejí a menz" = SKM)
SKM establishments have one big advantage over others for the UWB students. It is possible to pay with a JIS card and even recharge it with cash or card. Compared to other establishments, they usually have slightly better prices.
NTIS Café
The Faculty of Applied Sciences has a modern airy café with the attribute internet. It's located just behind the main entrance to the Faculty of Applied Sciences building, but you can enter it directly from the outside. The prices are reasonable, with most types of coffee you can fit into 30 crowns, the price/performance ratio is renowned even among students of other faculties. They also offer a variety of pastries, sandwiches, desserts, chilled baguettes and paninis, cookies and chilled drinks. You can also order a baked pizza. This café is a good place to eat, but also to study or work. They are open every weekday from 8 a.m. to 2 p.m.
K.U.K. – University Library Café
The name itself suggests that the café is located in the University Library in Bory. You can either enter it in the very corner of the main library hall, or you can enter it from the same side from the outside. Inside there are about ten small tables, mostly with four chairs. In addition to coffee or tea, you can choose from several types of juices, tin drinks, and alcoholic and non-alcoholic beers (bottled or tin). For a bite, have either one of the sweet desserts or, for example, a baked panini or quiche. The quiche tends to be absolutely luxurious. Opening hours are every weekday from 8 a.m. to 4 p.m., on Fridays until 3 p.m.
Buffet in the FPE building
The Faculty of Education is unfortunately located exactly halfway between the two canteens. However, its students can enjoy a hot meal from the canteen without having to leave the FPE building. In the building on Klatovská třída, there is a cafeteria, which, in addition to the classic buffet assortment, also offers the possibility to order a hot meal from the canteen. However, it is necessary to do this in advance via the website iskam-web.zcu.cz. There are plenty of places to sit, and you can refresh yourself even without an ordered lunch.
Other establishments in the UWB buildings
Pepe's Café
The former "Crossko" was sought after by students mainly for its cosy environment, where they  studied or worked, and it was located directly opposite the main entrance of the Faculty of Engineering. Since last year, the Pepe's Café franchise chain has been operating in the same location with an almost unchanged interior. You're probably not familiar with this brand, but if you were used to the original operator's offerings, we can assure you that the new one won't disappoint. They offer several types of coffee, sweet pastries and cakes, hot breakfasts, toast, bagels and other "hot" foods. Their menu is larger than the original one, the daily menu varies, and they've added draft sodas and beer (not Pilsner, unfortunately). If you're a bit lucky, you'll be able to fit a coffee and a cake into a 100 CZK (meant together, of course), you'll pay a bit more for hot food, but unlike most other places, you can have a decent lunch here. It's open every weekday from 7 a.m. to 5 p.m., but the hot kitchen is only open until 3 p.m.. For up-to-date information and the permanent menu, check out Pepe's Cafe's Facebook page.
Bistro FST
If you want to save some money and prefer to enjoy your coffee or snacks on the way, visit the bistro in the Faculty of Engineering building. If you've just walked into the building through the main entrance, it's on your left, basically right next to Pepe's Café, and you really can't miss it thanks to the big yellow sign above the kiosk. You can get coffee here, the beans of which come from the Pilsen roastery Pappa Coffee. Compared to Pepe's Café next door, however, the rest of the range is different. You can also buy packaged chilled drinks, as well as various tortillas, bagels, sandwiches or meatloaf, but also salads, fruit and vegetables. Hot dishes will be prepared for you to wait.
FEL buffet
Even students of the Faculty of Electrical Engineering don't have to go far for refreshments. The cafeteria is located on the ground floor next to the largest university auditorium EP 130. The coffee offered here is more limited compared to the facilities at the Faculty of Engineering, but for such a small kiosk, they offer a wide range of chilled and energy drinks, various types of pastries, baguettes, toasts and the popular meatloaf. You can take your food to go or eat it "standing up" on the tables in front of the kiosk. Compared to other establishments, this buffet is specific in that it also sells daily newspapers and cigarettes. The buffet is open every weekday from 7:15 a.m. to 4:30 p.m., and until 2 p.m. on Fridays.
Družba University Café
This café is located on the corner of Riegrova and Sedláčkova streets. During my evening visit, the place gave a very hipster impression, but I don't mean that in a bad way at all. It takes a really long time to read the entire drink menu. You can get coffee, tea, beer, limo and something sharper, and most items have the country or establishment they're from written on the drink menu. They are a fan of fairtrade products and this is definitely not an average Pilsner pub. You can also refresh yourself with something sweet, as well as drowned pork, pickled ermine or bread with crackling or spread. Find more on Družba's Facebook page or by visiting yourself, which I definitely recommend. They're open from 9 a.m. to 11 p.m. on weekdays and 4 p.m. to 11 p.m. on weekends.
Conclusion
Whatever your favourite café or buffet becomes, whether it's one of the places mentioned above or another, remember that you can't survive on sweets and semi-finished products forever, so treat yourself with a full hot meal (or a salad) at least once a day (or twice, like I sometimes do) for which you have time and peace. Schedules aren't always ideal, but if you don't want to cook for yourself or spend too much money, the canteen is a convenient refuge on your lunch break. You can take food from the canteen to go and even have the option to reheat it later, for example in the B-room opposite the CIV Helpdesk or in the Kulturka next to the Družba, which of course also applies to food cooked at home or in the dorm. Bon appetit!