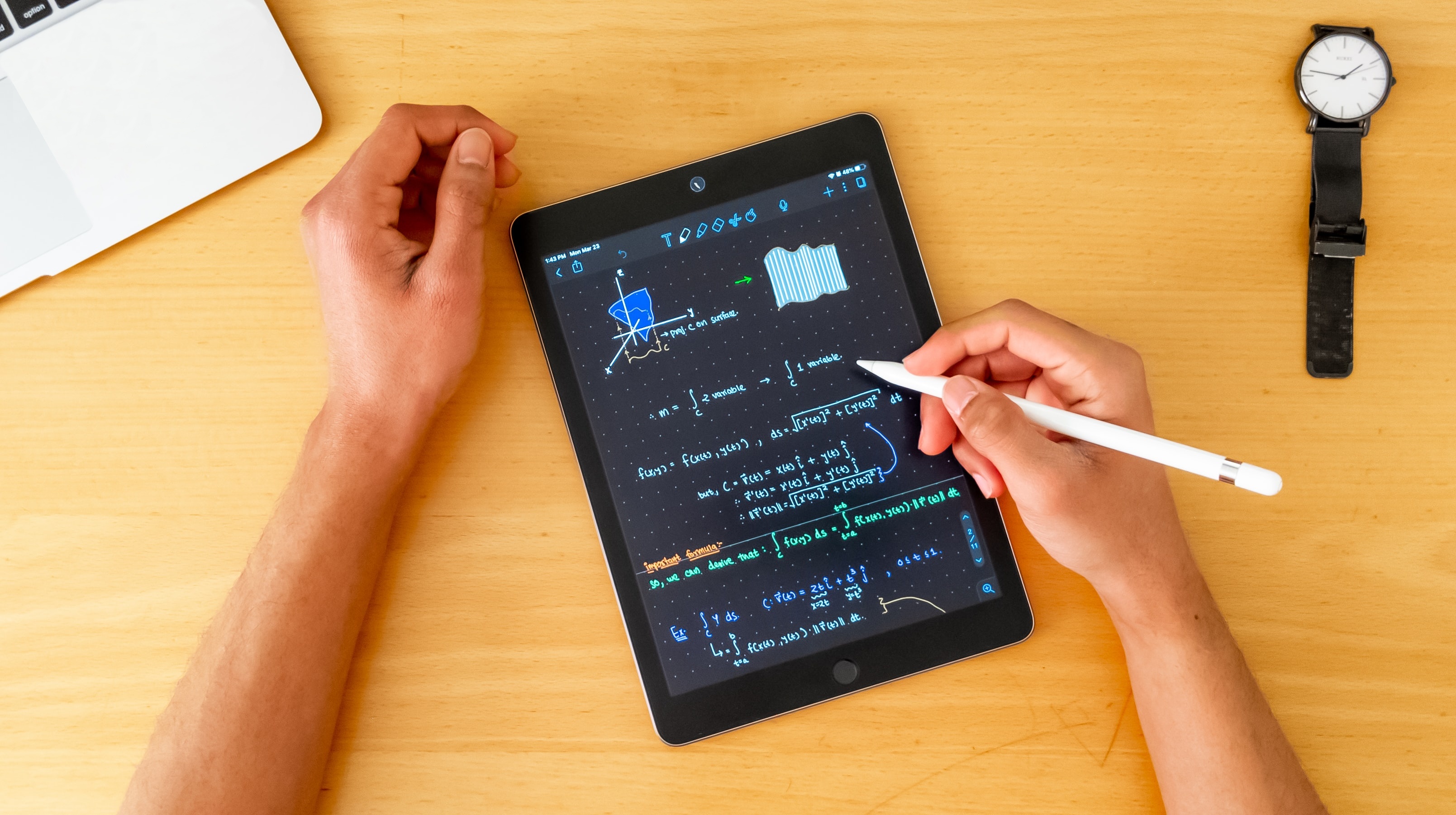 Unlike the

first article

, which (I hope) helped you choose the right tablet, this time I'm going to focus on note-taking apps.
There are plenty of apps suitable for digital note-taking. They vary in focus, capabilities, user interface, supported platforms or even price, so it will be up to you which one you'll choose. At the same time, keep in mind that it's always important to try the app for yourself and explore all the features that can't be covered in one article.
Microsoft OneNote
Let's start with an app from Microsoft. OneNote is a multiplatform (available on all operating systems) application generally designed for writing any kind of notes. It supports a combination of keyboard text and drawings or handwritten fonts very well. In addition, it allows easy sharing with others.
It offers writing on an "infinite" page, so your space is not limited in width or height. This proves as a problem if you need to export your notes to PDF (it's hard to keep to A4 size, for example). This problem is partly solved by the desktop application (only available for Windows operating system), but it is not sufficiently optimized for use on a tablet.
The app can also insert PDF files, but you may find editing them a bit clumsy compared to other apps.
It also supports playback of handwritten text; it displays the text in the order in which it was written.
The advantage is the app is free to use for an unlimited time.
Microsoft Word
I'll also briefly mention Word, the universally renowned text editor. It does offer a drawing tab and, to a limited extent, offers similar things like the OneNote. So for filling in text from the keyboard with handwritten notes and drawings, Word can be a very good choice.For the sake of completeness, I should say that you can use the same feature in Microsoft PowerPoint. FAV, FEL and FST students have a free license for Office 365 downloadable applications, as part of their studies. You can find more information on the support website.
Notability
Let's move on to Apple devices for a moment. One of the most used apps is Notability. For a few dozen crowns, you get an unlimited license and a convenient note-taking environment. The app offers the usual tools: different types of pens, colors, background "paper", page limitations to A4 size, converting handwriting to shapes, etc.
The app also allows you to scroll the screen endlessly through the pages of a single notebook, saving you the trouble of switching and loading pages. The ability to record audio is also integrated. Of course, you can annotate documents and export notes to PDF, or back them up via iCloud, Dropbox or Google Drive.
Goodnotes
You can get very similar options to the previous app by purchasing the Goodnotes app. Like Notability, it is limited to Apple devices only. In addition, the app allows you to save your most frequently used objects for easy, repeated use. The app's authors also boast the ability to collaborate when taking notes with multiple people. Another interesting feature is the built-in "flash cards" – double-sided cards suitable for learning vocabulary or chemical formulas, for example.
Inkodo
My favourite app on Windows tablets is the Inkodo app. Although it is not very well known among users, it offers a unique combination of tools and options.
In addition to the usual tools (pen, colors, paper backgrounds, …), the app offers, for example, ruler and protractor functions, sticker and clip art insertion, object insertion (for example, text fields, geometric shapes or coordinate axes, which will be especially appreciated by technical students). It also offers a "container" of selected objects for easy and repeated insertion of frequently used items. The document content can be exported in many formats – image, PDF, vector format – or sent directly to print. Some tools can be customized to your own preferences, such as preset colors and pen types, etc.
You can annotate PDF files. It is also possible to record voice recordings for individual pages. To keep your notes organized, you can group pages into sections, books or groups.
The downside is the lack of reliable automatic saving of changes, so you need to save changes manually. Unfortunately, the app is not supported outside of Windows.
Squid
You'll probably have to deal with the smallest choice of apps on Android. One of the ones I could recommend is the Squid app. It offers everything basic and important you might need for the purpose of written lecture recording. Organizing pages of notes into notebooks, annotating PDFs, or different pen colors are a given.
The clear disadvantage is the periodic fee for using the better but necessary features, such as importing PDF files and more. The overall cost is not high, but in contrast to other apps, you may find this obligation annoying.
Nebo
I will briefly mention the Nebo app. It differs from the others by its primary focus on automatic transformation of written notes into printed text, including support for Czech. And according to user reviews, it does this very well. In addition to text, it also converts diagrams that can then be edited, both in Nebo and in PowerPoint, for example. The conversion also applies to mathematical expressions and equations, including automatically solving them. Besides the normal page format, you can also write on an endless canvas. It is available for all common operating systems for a one-time fee.
Don't underestimate system applications
You'll almost certainly find a system app suitable for taking handwritten notes on every tablet. On Windows tablets, for example, you'll find Whiteboard, and on Samsung machines you'll find Samsung Notes. They probably won't be suitable for collecting all your notes for school, but for quick notes or sketches, they'll do just fine.