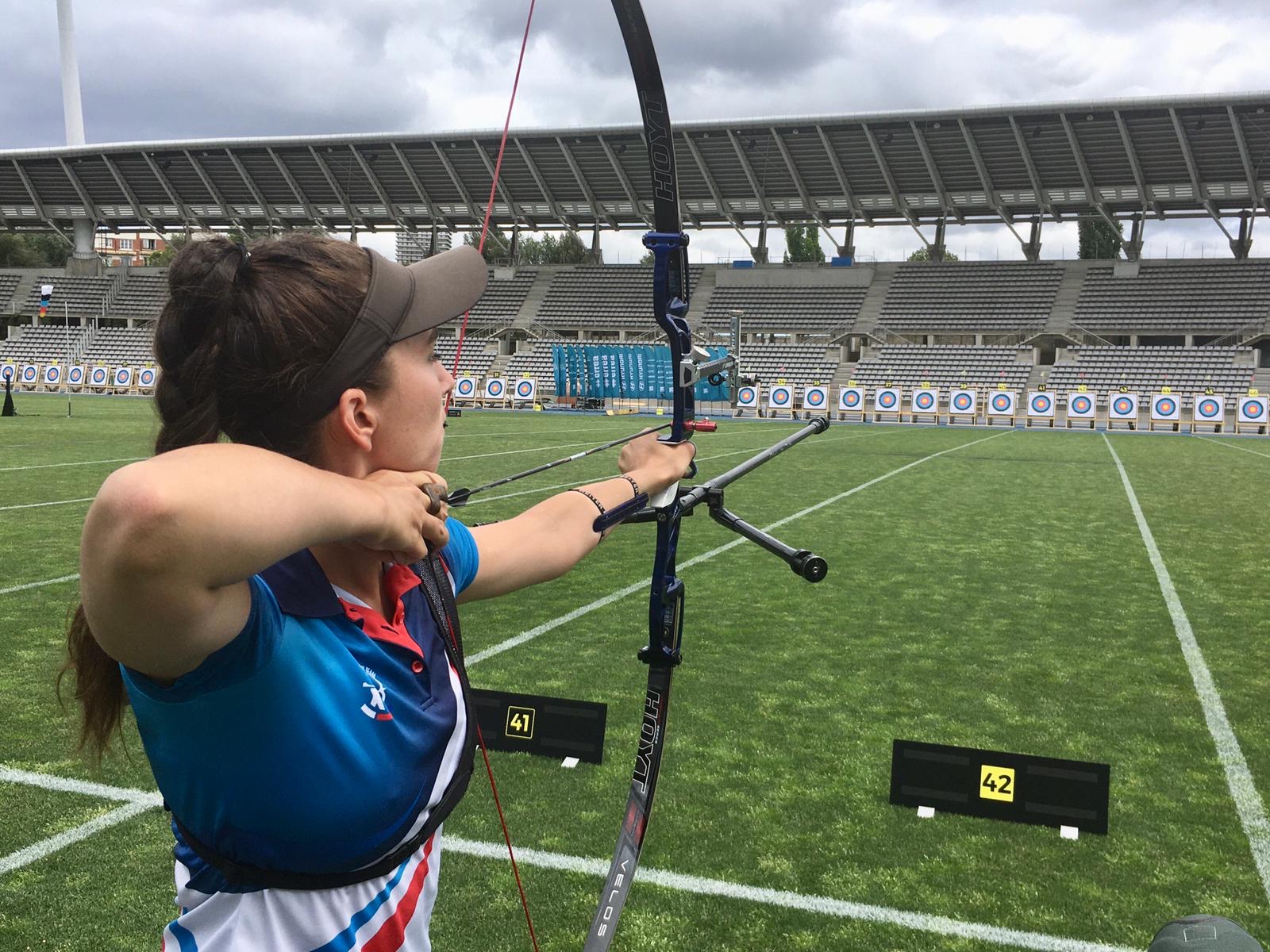 Future teacher, coach and Tokyo 2021 Olympic Games participant. How challenging was the journey to the Olympic Games, how does she feel at her charges' competitions and what does Marie Horáčková like about archery?
How would you introduce yourself to someone who doesn't know you?
I'm Marie Horáčková, who leads an ordinarily extraordinary life, studying and shooting archery competitively. Archery has always been a priority for me. I think I'm a friendly and smiling person. I am open to new things and opportunities.
What are you studying?
I am a 2nd year student at the Faculty of Education of UWB, Physical Education and Sport. I`ve always enjoyed working with kids and I`d like to do such work in the future. I realize how important education is in this field. Moreover, sport is very close to my heart. I also tried studying at the Faculty of Applied Sciences, but I found that this is not the way for me.
How did you get into archery?
Simply, the whole family does archery. Dad founded an archery club in Pilsen, was a national team member and is an archery coach. I got my first bow when I was five years old and I could say I grew up on the shooting range, as my parents and I spent a lot of time there. I`ve been an archer since I was a kid, I`ve won the Czech National Championships since I was at primary school, at the turn of my teenage years I got into the Youth Sports Centre and a year later I became a member of the national team.
Is it hard for you to combine school and archery?
Since I'm in my 2nd year, I've had a year and a half of distance learning. On the one hand, that's fine, since I don't have to deal with absences since attendance is a credit requirement in a lot of classes. The worst time is at the end of May and beginning of June, when everything in school piles up and I usually have peak season at this time. Overall it's busy, but it can be managed, it's important to get your priorities right in your head. Quite often I like to go to one of the courses at the FPE (Faculty of Education) Centre for Physical Education and Sport, where I can try other sports and movements, which is also a big plus for my preparation.
Do you think you could briefly explain what are the categories in archery?
There are target, field and indoor archery. Target archery is an Olympic discipline, where you shoot from a reflex bow at 70 m, the target is 122 cm in diameter and there are two categories – men and women. Field archery is a non-Olympic discipline that is at the World Games. The archer goes around 24 set targets in a forest or park and shoots at them from different terrain conditions – downhill, uphill, across the water… And indoor archery is target archery with the difference that we shoot indoors.

What do you do in particular?
Target archery, reflex bow, women's category.
How was your preparation during the coronavirus?
We went to Tenerife for three weeks for a training camp. We came back for Christmas and during this period my condition training peaked. Since January I have been able to train normally as a professional. In February we went to Antalya, where we had to fine-tune the bow. Such bow tuning is quite an alchemy. There are a lot of laws to follow, there are different types of arms and arrows from a lot of manufacturers. You can't tune a universal bow, because everyone likes something different, so the process takes a while.
What are your greatest achievements?
I won 4th place at the European Junior Championships in 2016, then I placed 17th in the World Cup event in 2019. Since I have been shooting for the women, I have won the national championship 5 times in a row. I think I've been pretty unlucky so far, as I've missed the Youth Olympics or Rio Olympics Games by 1-3 arrows.
What do you like most about archery?
Archery creates a kind of reality for me, whenever I'm not feeling well at the shooting range it all falls and goes away. I also like how it teaches me discipline in everyday life. Of course, I can't forget the feeling of the shot, it is irreplaceable.
You're an archery coach, and I'm wondering if it's more challenging for you to compete for yourself or to watch your charges compete?
There's no comparison. When I compete for myself, it's a completely different mental setup, I create the result myself and I'm responsible for everything. When the kids are shooting, I just try to help them, they create the result. It's true that last year I had my charge at the Czech National Championships and I knew she needed to shoot a 10. The moment she did it, my heart was in my throat and it was great.
Your last qualification tournament for the Olympic Games was successful. What were your immediate feelings after you found out that you had the ticket to Tokyo in your pocket?
In the first moment, I had incredible endorphins. I definitely felt overwhelming joy, but I don't really know how to describe the feelings. The whole situation was completely new to me.
What was different about this competition when you knew it was your last chance to secure a spot at the Olympic Games?
At these races, I was finally able to sell what I've been working on the most this year, which is my psyche. I always took something from every race and moved myself mentally. Everything sat so nicely now, I was able to work with my head and keep my nerves. I knew that physically I was ready, then I just had to believe myself and why I was there.
What are your expectations for going to Tokyo?
In the qualification part I want to shoot what I can and hopefully it would be enough for a good placement and entry into the eliminations, where I would like to go through to the 2nd round. I'm sure it won't be easy, we'll see what happens.
How would you describe your journey to the Olympic Games? What did you sacrifice?
I would describe it as a years-long journey that started from the Rio Olympics Games, where I failed just short of the limit. It's a journey where I spent hours, days and years on the shooting range. But if you love it, you don't even think about how much time you sacrifice for it.