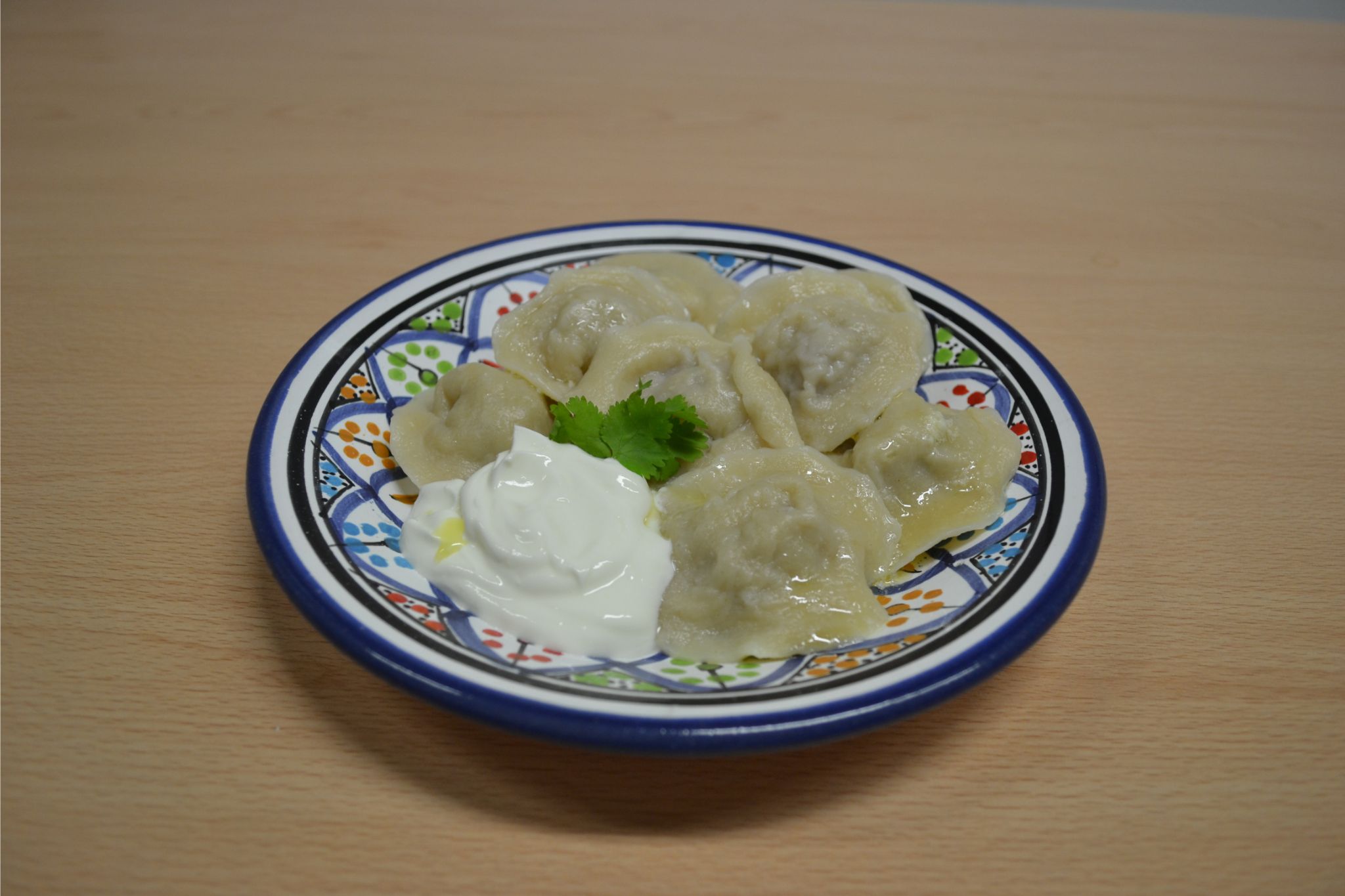 Pelmeni (Russian: пельмени) or meat patties, which will make you love the cuisine of Eastern Europe. The national dish of Russia and ​​its neighboring countries has its roots in the Far East and brings the taste of dumplings with dill and sour cream.
Ingredients
For the dough:
600 g wheat plain flour
1 egg
250 ml warm water (1 cup)
salt
a spoon of olive oil
For the filling:
500 g minced meat mix
2 onions
coriander (dried)
salt
pepper
Spices for cooking:
To serve with:
sour cream/ dill/ fresh spring onion, butter
Procedure
Sift the flour into a bowl and add a pinch of salt. Crack one egg into the middle of the mixture. Mix well. While stirring constantly, add a cup of warm water (you can replace it with sparkling water) until a dough forms and add a spoonful of olive oil to create a non-sticky dough. Cover it and let it rest for 15 to 20 minutes.
In the meantime, prepare the meat mixture. Mix half a kilo of minced meat in a bowl. Depending on preference, we can use a combination of 250 g each of beef and pork or chicken and turkey. Add finely chopped onions, mix with a little water and season with salt, pepper and coriander.
Remove the rested dough from the bowl and cut it in half. Roll out a portion of the dough very thinly on a lightly floured surface and cut out rounds with a cookie cutter or a wine glass. Place 1/2 teaspoon of filling on one side of the dough circle. Fold dough over and seal the edges using fingers, forming a crescent. Join the ends and pinch them together. Place on the prepared baking sheet. Repeat with remaining dough and filling.
Bring a large pot of lightly salted water with spices to a simmer and drop small batches of pelmeni into simmering water. Cook and stir until the meat is cooked and pelmeni float to the top, it is about 7 minutes. Transfer to serving plates using a slotted spoon.
Serve with melted butter and sour cream. Depending on the taste, we can add fresh onion, dill or the water in which the pelmeni were cooked. Enjoy your meal! Приятного аппетита!